A framework for designing document processing solutions
Extracting information from PDFs and scanned documents may not be the hottest problem of the century. You don't generate paintings nor control robots to play games. It's pure busywork, something that "AI" has promised to automate but failed to achieve. That's why I'm interested in document processing, the task of converting analog data into digital format, as it evokes a subtle challenge—a problem statement so simple yet tough to solve.
Document processing, the task of converting analog data into a digital format—a problem statement so simple yet tough to solve.
After working with different organizations, I realized that document processing is ubiquitous—from corporations to NGOs, small organizations to large conglomerates— there's always a PDF that needs to be digitized! Solving this problem even has significant ramifications: archival climate data that can help scientists understand the growing global crisis is locked in paper documents. So document processing is not just hard; it may also be urgent.
Anyone with experience in OCR or AI/ML looking for a challenge to solve which would help climate science?

We have thousands of pages of historical weather observations which need numerical values extracting efficiently & accurately so we can better understand extreme weather. pic.twitter.com/QKcCwPCxWm

— Ed Hawkins (@ed_hawkins) August 31, 2019
This blog post describes a framework for designing document processing solutions. It has three principles:
Annotation is king: there is no silver bullet. Even in the presence of a good model, you still need to finetune with your data. Ideally, you'd want an annotation tool with finetuning built-in or flexible enough to incorporate this mechanism.

Make multimodal models: we don't just rely on text whenever we analyze a document. Instead, we take all information (position, text size, etc.) as context. Being able to use all these features is vital. A pure OCR (optical character recognition) or a pure text-based approach is suboptimal to solve this task.

Always be correcting: OCR and document layout models aren't always perfect, so it's essential to keep the human-in-the-loop to correct your system's outputs. You can use correction to retrain your model or as the penultimate step before saving the results in a database.
We'll see this framework in action as we go through my sample implementation using Prodigy and Hugging Face in the next section.
Framework in action: form understanding
We'll focus on the task of form layout analysis. Unlike tables, forms vary in their template, confusing even the most complex business rules. We will be using the FUNSD (Form Understanding in Noisy Scanned Documents) dataset for this task. It consists of noisy scanned documents where the challenge is to determine the header, question, answer, and other relevant information.
FUNSD: Form Understanding in Nosy Scanned Documents is a dataset for text detection, optical character recognition, spatial layout analysis, and form understanding.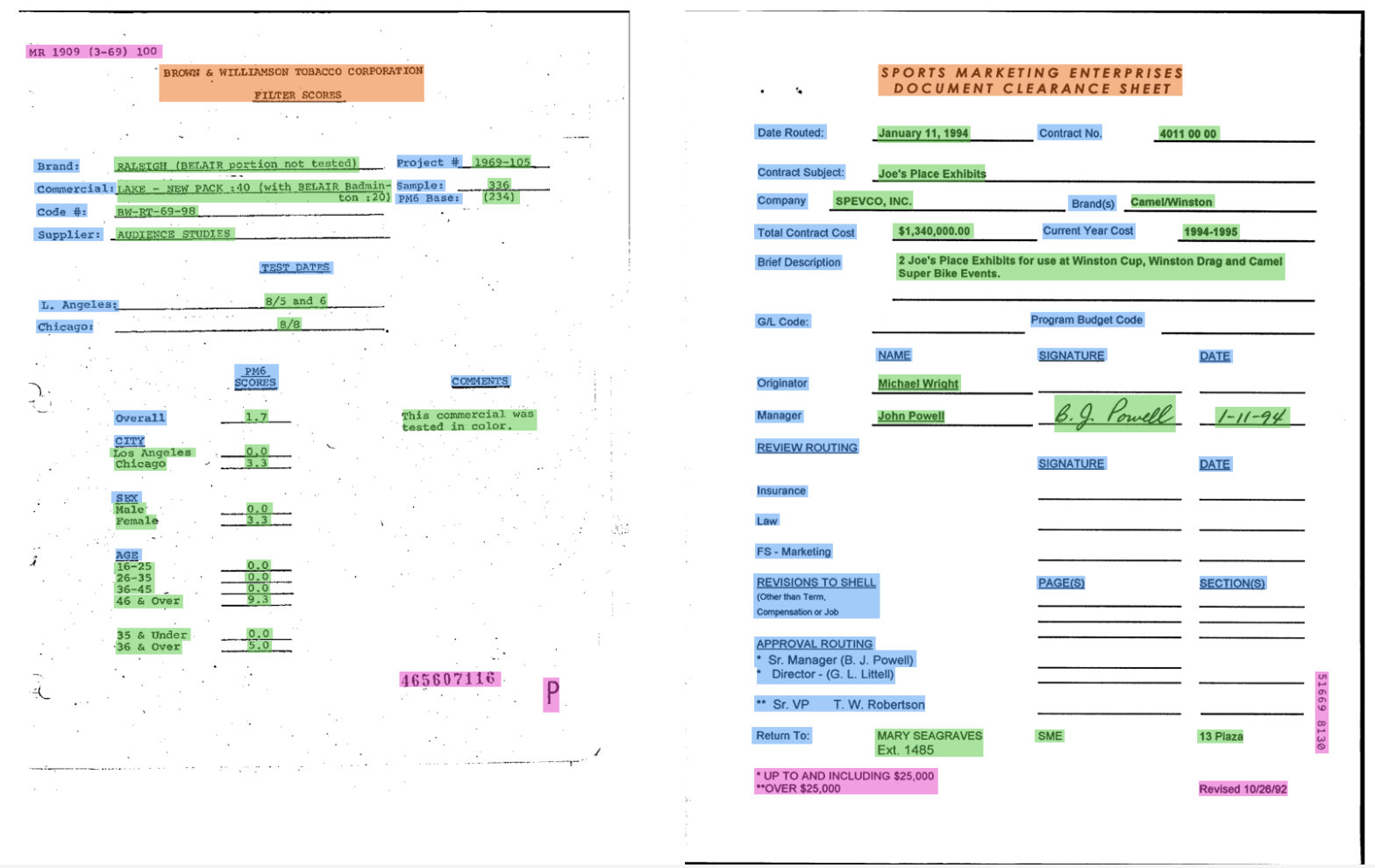 Prodigy and the LayoutLMv3 model from Hugging Face. Prodigy is an annotation tool that allows us to write custom scripts tailor-fit to my problem (for full disclosure, I currently work at Explosion). By translating the principles above into Prodigy recipes, I can come up with the following figure: