How to improve software engineering skills as a researcher
Hello! You're here because I rambled on how you can improve your software skills as a researcher. Maybe our conversation went this way: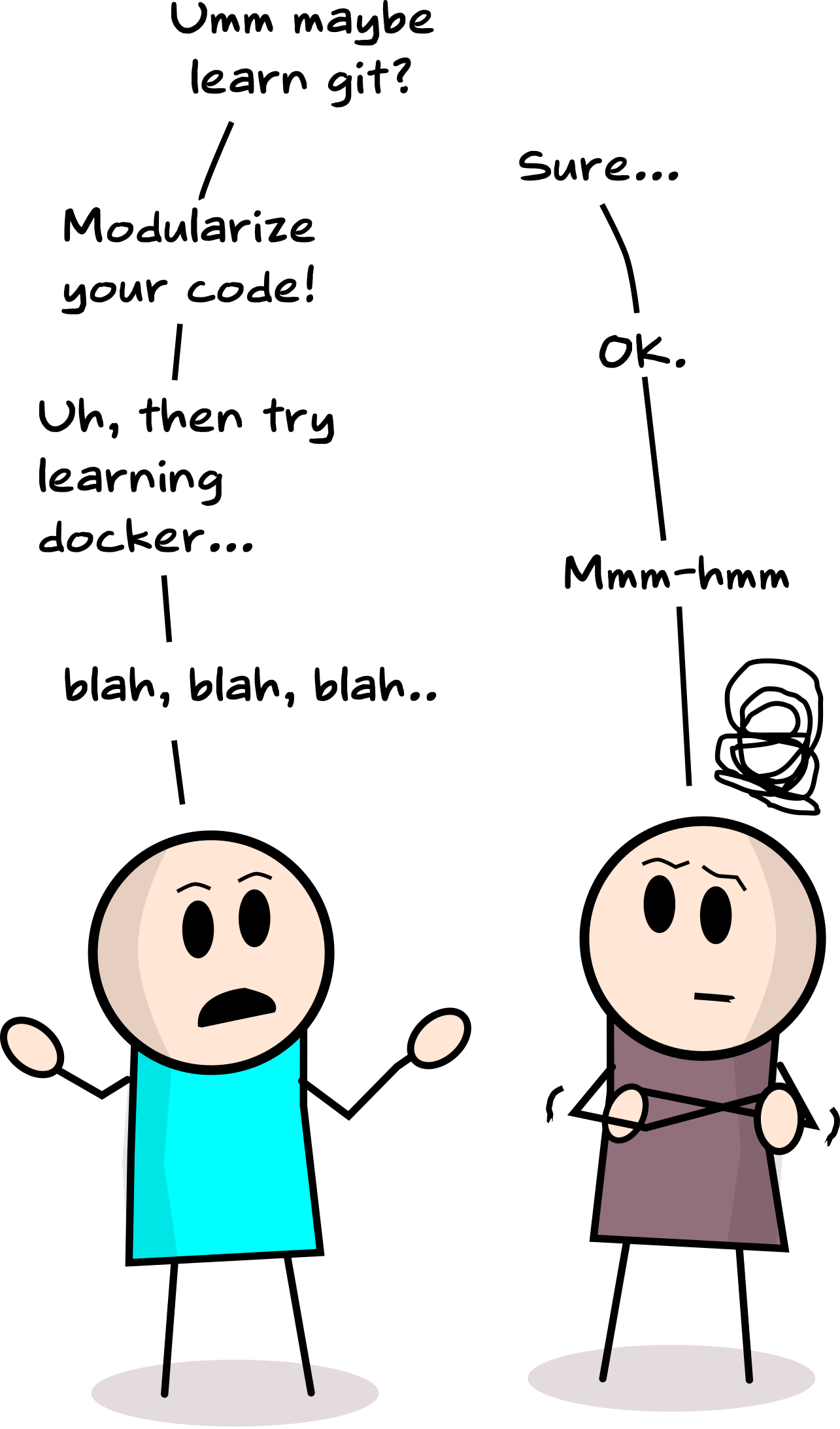 You get it already…the field is quite huge and there are many ways to get started— I myself got overwhelmed before! Hence, here's an exercise for you to learn relevant software skills with a tangible output in the end. Your mileage may vary, it worked for me and it's one of many paths.
The exercise, is to:
Create a machine learning application that receives HTTP requests, then deploy it as a containerized app.
Um, what?
Let's break it down a bit:
"Create a machine learning application…". This should be a model that receives an input, transforms the data, and returns an output. It can be anything, and it depends on what you're comfortable with. For example, you can make models for sentiment analysis, OCR of PDF documents, or predicting house prices. You decide!

"…that receives HTTP requests…". If this is the first time you've encountered this, then don't fret! In Python, this may be as simple as learning a new library. HTTP is a standard that allows computers to talk to one another. By allowing your ML application to receive HTTP requests, you're setting-up the "language" between you and your users. With HTTP, users know how to give and receive data to your model.

"…then deploy it…". Here you make your app accessible outside your computer! After setting up the communication standard in Step 2, you then open up the lines to give and receive data! There are many platforms that can do this, and I'll list them down later.

"…as a containerized app.": Today, containers are the most ubiquitous way of shipping things into production. Containerization wraps your application, all of its dependencies, and setup steps in a single package. It makes your app idempotent, so that you can run it on machines other than your own!
In short, we are building a Machine Learning (ML) Service. Service is a term you'll hear a dozen times in the industry: software-as-a-service, microservice architecture, API services, kubernetes service, and more. I assure you that there is some relation among these terms. However, before we jump into the how, I want to talk about why creating an ML service is a perfect introduction to learning software for researchers and data scientists.
Note that this blogpost is not a tutorial. Instead, I'll touch upon a skill roadmap that will enable you to build an ML service— i.e., how to get there.
Wait, but why an ML Service?
Here are my three reasons why building an ML service is a good introduction to software engineering:
Improves engineering sensibilities. Most applications treat ML models as software components. We feed input data, then receive an output in the form of a score or a prediction. Learning how to build ML services gives us a unique perspective on how machine learning happens outside of the train-eval loop.

In addition, the competencies needed to create such service covers a lot of the essential software skills to collaborate with engineers: version-control, software design, web paradigms, dependency management, and so on.



Figure: A very simplistic system architecture

Increases familiarity with the ML workflow. We're familiar with the ML experimentation workflow. In addition, there is also a productization workflow where we deploy our models, perform A/B testing, take care of concept drift, and more. I even imagine it as two cycles syncing together:



Figure: Machine Learning Lifecycle

Building an ML Service gives us a glimpse on how to productize models. We'll start to think about data versions and model dependencies. As a researcher, being able to see a model end-to-end, from concept to production, provides insight on how to improve the products we work on.

As an aside, my fearless forecast is that the productization workflow will be democratized by up-and-coming ML Platforms and services. However, learning how they work, "to the metal," while they are still relevant can be a good experience.

Another tool under your belt to create more cool stuff. Even if you won't be working as a full-fledged ML Engineer or Developer, the technologies you'll learn while building an ML Service enables you to do more things!



Figure: Three years ago with my first dip in software eng'g

As an academic, learning how to use Docker paves way for reproducibility. In addition, being more organized in writing code, in contrast to writing janky scripts here and there, can aid you in your research in the long-run. There's a lot of things we can learn from software engineering to enhance our research workflows. For example, I used containers, version-control, and LaTeX to write my Masters thesis before! The opportunities are endless!
Ok, so how?
Now that we've established what we are going to do and why we're doing it, let's talk about how. In this section, I'll talk about a roadmap leading to an ML Service, with resources that once helped me along the way
In conclusion
At this point, I can say that you are already productive and more ready to collaborate with software engineers in your team. If you're an academic researcher, you can probably see how these software practices can be used to improve your research workflow. Congratulations!
Obviously, this is not a weekend project. Some of these might take time, and you might learn one thing before the other. More importantly, some steps can overlap: you might still be on Step 2 but already learning Steps 3 and 4— that happens.
I wrote this blogpost to provide a rough roadmap for someone who wants to learn software engineering as a researcher or data scientist. Software engineering as a field is very exciting— new technologies pop-up everyday and there's always something new to learn! I hope that you, reader, put in the patience and drive to go from learning Git to deploying ML web applications into the Cloud! If so, then you've achieved a lot and as a random stranger I'm proud of you!
What's next?
From here on in, you can keep improving your app by:
Minimizing the size of your Docker image using multi-stage builds.
Cleaning-up your repository. Model files shouldn't be committed but stored in a storage service (e.g. Google Cloud Storage or AWS S3)
Adding a Continuous Integration / Continuous Deployment (CI/CD) pipeline so that any change on Github is automatically reflected on your deployed app. I often use Github Actions for this (e.g., any change in the master branch is deployed automatically).
Improving security! Make use of Docker args or .env to secure API tokens, passwords, and whatnot. Ideally you shouldn't be committing any secrets on Git (it can still be recovered if you deleted it!). Be careful!
Lastly, I highly-recommend the following resources for general guidance:
FAQ
Why didn't you include X? You should include X: I try to make the roadmap as overarching as possible to allow some wiggle room for technology X. I think that if I write down all possible tech and processes, then this can blow up into a book (hmm…)!
Is this for data scientists or ML Engineers?: To be honest, the roles are quite blurred across the industry. I often see this profile of a good researcher who can code and produce good models, but the code cannot easily be deployed to production. I see myself writing for them!
I am an academic, will this be useful?: I absolutely believe so! Open science runs on the idea of reproducibility— not only your paper is accessible, but also the ingredients and the process from which your results were generated. I think learning Docker or properly modularizing your code can go a long way.
Changelog
05-10-2021: Quite glad that some Redditors resonated with the post! Thanks for the gold too! You can check out the interesting thread below:
05-08-2021: Thanks a lot for the Youtube shoutout Daniel Bourke! I highly-recommend looking into his Zero-to-Mastery newsletter, it gave me a good view of newsworthy ML stuff I missed!
04-26-2021: Added more resources for FastAPI. I actually just linked it from this site. If you're looking for more resources, I suggest looking at that link!
03-19-2021: Added more resources for Flask and FastAPI based from feedback from Chip Huyen's ML Systems Design Discord Server.